Dear Parents, Guardians and Students,
On June 22, we announced our return-to-school strategy: AMDG 2020: A campaign for resilience in a season of adversity. While strictly adhering to public health protocols, we will also make space for the joys of high school at Jesuit. Today's email introduces the new "HyFlex" Bell Schedule with a two-cohort model for the upcoming 2020-2021 academic year, in accordance with the State of Oregon guidelines in Ready Schools, Safe Learners.

While we hope to avoid an outbreak of COVID-19 at Jesuit or another mandated school closure, we developed the schedule to transition smoothly to digital learning if necessary. Assistant Vice Principals Scott Powers and Alyssa Tormala describe the schedule and cohort model in this informational video.
KEY ELEMENTS OF HYFLEX SCHEDULE
The student body has been organized alphabetically into Green and Gold Cohorts (A-K and L-Z) to ensure siblings will be together and to balance classes to maintain required physical distancing in all class sections

On Mondays, all class sections will meet online to receive teacher instructions for the week/unit of study, clarify goals and objectives, and build community with all classmates present

On Tuesdays and Wednesdays, Green Cohort will meet on campus while Gold Cohort attends classes online

On Thursdays and Fridays, Gold Cohort will meet on campus while Green Cohort attends classes online

Attendance will be required for all classes, whether on campus or online

Teachers will design synchronous and asynchronous activities for block periods based on the content and learning objectives of the class to serve students on campus and online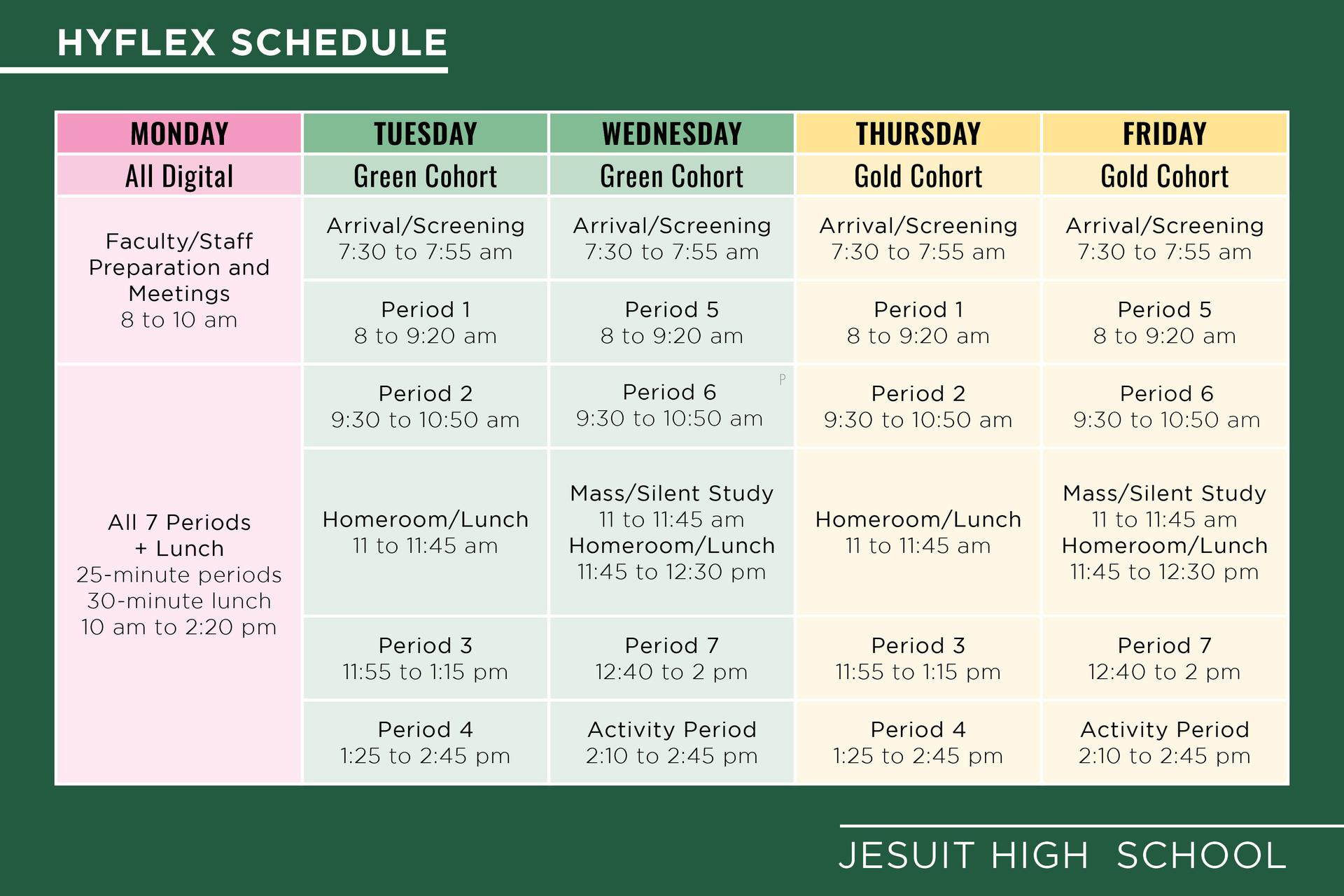 NEW WEBPAGE & MORE UPDATES – COMING SOON!

We will soon share with you a dedicated webpage with information about AMDG 2020, which will be frequently updated with announcements and resources related to our efforts to return to school. In the coming weeks, we will share details about entry and exit procedures, health screening, scheduling of study halls and activity periods, Campus Ministry, Christian Service, Athletics, Fine Arts, and other school-related activities.

QUESTIONS? | ZOOM INFORMATION SESSIONS

To answer your questions about the HyFlex Bell Schedule, we invite you to join us on Zoom. If you plan to join one of these sessions, please RSVP here.
If your family has a significant and compelling reason for an exception to a student's Cohort assignment, please fill out this form to explain your situation.

All requests must be submitted by July 15. Please be aware that making a request does not guarantee we will be able to accommodate it, due to state-mandated physical-distancing and contact-tracing requirements.
We hope our HyFlex schedule allows families to plan for a consistent schedule. We will continue to monitor and adapt to the evolving public health situation, with our top priority our students' social, emotional, spiritual, mental and physical health and safety.

Thank you for your continued support, flexibility, patience, and understanding as we plan for a new Jesuit experience this fall.

Peace. Gratitude. AMDG.
© 2020 Jesuit High School | 9000 SW Beaverton-Hillsdale Hwy | Portland, OR 97225 | 503-292-2663
If you would like to unsubscribe from ALL Jesuit email communications, click here.